Don't pay for the same job twice
Without the proper preparation, you'll be left with a job that doesn't last. Trust us, you don't want that.
We protect what matters.
Abrasive Blasting
Our Methods
Experts in countless methods to get the job done right.
You shouldn't have to pick the best service or method of application. We'll assess and then do what we need to do to get the job done right.
Vapor Blasting

Protect your finer finishes on a wide range of surfaces with this delicate blasting approach. Allows for precision, and nearly dust-free blasting.

Dry Blasting

Traditional blasting method that's been tried and true for years. It's effective, fast, and efficient. We're able to use a wide variety of media that best fits your specific job.

Robotic Blasting

Automate the blasting process to lower costs, speed up the project, and increase safety for your team.

Dust Suppression

Abrasive blasting is a critical piece of any maintenance plan, but it can get messy. Proper dust suppression planning will keep your space clean, your employees safe, and the air quality in your facilities improved.

Lead Abatement

Lead-based paint should be removed and done so safely. Whether it's done by hand or with our high-production equipment, we are the lead remediation experts.
Common Applications
We use abrasive blasting on almost any surface. Here are some of our most common projects.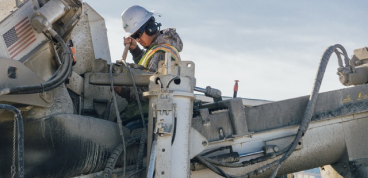 Don't see your project here? I bet we've already done it.
Get A Bid
Benefits
Your equipment is your livelihood. Take care of your equipment and it'll take care of you.
Corrosion Prevention

Industrial coatings and linings are the first lines of defense when it comes to corrosion. Applying them properly requires correct preparation work through abrasive blasting. Maintaining and protecting your assets keeps you up and running so you continue to make money.

Longevity

Proper coatings keep your equipment working longer. The correct preparation, coating, and application could be the difference between years and years of additional service.

Safety

Trust us to know the correct abrasive blasting methods to use and how to use them safely. We guarantee that all industrial jobs will be done with extreme awareness for the safety of all employees and personnel.
Industries
Industries in which we use abrasive blasting.